About the Owner,
Ruth Marlene Friesen
You want to know about the owner of this site, (Ruth Marlene Friesen), to help determine if you can trust the information found here, right? Good. What I can offer you is integrity and persistence - yes, tremendous tenacity!
I am committed to growing in character, compassion, and integrity in all I do!
I grew up in the rural, small town area of Hague, north of Saskatoon, in Saskatchewan, Canada. That's the flat prairie part of our vast beautiful country, with the living skies!
In 1971, after working four years as a telephone operator and paying off my little Nova, I packed my stuff in the car and headed east, as far as London, Ontario. There I worked for 12 years, learning to multi-task and live like a cat with nine lives, but living them all at the same time! (A separate saga all by itself).
Caregiver, Maturing Era
In 1983 I returned home, as a live-in-caregiver for my parents. I had struggled over the decision, but concluded it was God's will, and He would provide for me however long it took. My mother had been sickly most of my life, and had a long medical history. However, with my presence and care she survived another 14 years, despite pernicious anemia and congestive heart failure, just two of her problems. (All fodder for another book or site).
I've always had a runaway imagination, and for a number of years I dreamed that I'd marry a fine, intelligent gentleman who would make all my ideas for small businesses come true. Instead - God brought me home to look after my aged parents, and took time to mature me, and show me that I could carry out a lot of these ideas myself! During that mostly house-bound time, I polished my novel, Ruthe's Secret Roses, and also some family histories and genealogies. Which I have self-published!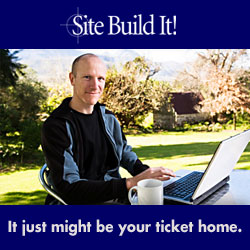 It's been slow going because I've started on a zero budget. Mom passed away in 1997, but I continued as Dad's live-in caregiver with free room and board as my compensation for another ten years, which I spent mostly online from right in the living room. Dad was across the room in his recliner. My learning curve was steep, but I'm grateful now for those years as I was able to learn so very much! I feel like I've been to university a couple of times!
It was near the beginning of my online life in 1999 that I stumbled upon the e-book, Make Your Site SELL. I could not afford it at that time (now it is a free download), but I discovered that I could sign up as an affiliate for free, and that got me weekly emails from this Ken Evoy, which taught me so much about running a website like a web business. When the SiteBuildIt! suite of services came out I sighed and drooled with desire.
Online Web Entrepreneur
I resolved to see how far I could go towards running an online business for free, or on an almost zilch budget. One day I'd have an SBI site too. Meantime, I'd see how far I could go with "Free" and "frugal."
From all the FREE information out there on the net, I taught myself web design, have published my novel by POD (a friend provided a gift for that), and have made a number of good friends around the world, especially through my novel-site, Ruthes-Secret Roses and my weekly blog/ezine, The RoseBouquet. My novel and that site often refer to my friends as roses in my garden of friendship. All the while I've tried out a number of free income programs, and discarded a lot of them as I've become more discerning.
I registered my main business, Bouquet of Enterprises, with my home province, Saskatchewan, and I did my best to behave as a business woman, and telling only God when I had any desperate financial need. Now I see all that time as a wonderful preparation for my present life.
Dad died in February, 2007, just four days after he turned 91. I had thought he would get to be 100 as the ancestors are long-livers on his side of our family tree.
Despite a cracked vertebrae, I turned into a white tornado while I cleaned up Dad's estate, and through a miracle (a co-signer) I bought a tiny house in Saskatoon, and got ready for Dad's estate auction, plus sanitizing, and painting my own wee house in the city, so it was safe to move into. Naturally, I needed a source of income too!
After 23 and a half years of not having a traditional "job," one relative thought I would have no marketable skills. - Well, I've showed her!
My SBI Web Businesses
During that ten year online educational period I had volunteered to build websites for some non-profit missions. Western Tract Mission (has since changed its name to Impact Canada Ministries Inc), in Saskatoon was one I was most involved with, and the director offered to make me an official missionary so that my friends could get receipted for support monies they gave me. (He also jacked up my workload!). My wee little house is walking distance from there, so while I was also trying to run my web businesses from home, I also began to show up more often at the mission office, and then the Board offered me some office space on the second floor.

I plowed my inheritance into my down-payment on the house. However, I treated myself to one thing when Dad's estate was wrapped up; with my share of the inheritance, I bought the creme de la creme of web design services - SiteBuildIt!. (Click video graphic to see more about SBI).
By comparison, my life in Hague was very laid back. Now I'm working easily 10-12 hours a day, and have trouble finding time for all the new friends I'm making. I have several clients for my web design services, and if anyone else asks I tell them to stand in line and take a number. My multi-tasking skills are stretched to the nth degree!
I carefully portioned out my time for the mission work, and guarded some mornings for my Aloe Vera and Handy Herbs Site (the first SBI site). About a year later my mind was filled with visions of explaining to friends who were afraid to shop online how to go about it safely. When there was a two-for-one sale at SBI I took the plunge, thinking this would be a wee little site, and by it I would make lots of friends wealthy... Well, it didn't work out that way. However, when I really got into the first steps I saw that it was a great idea - it would just take me a lot longer than I'd dreamed.
Good thing I'm so persistent and tenacious, eh?
Yes, I try to reserve three mornings a week to work on my web businesses, and just now this site is getting most of my attention. Having carefully done all the brainstorming steps in the ActionGuide, I am convinced this site is going to pay my living expenses so that I can back off some other responsibilities (or, ho-ho, delegating them to employees!) - and then I'll have time to write books and travel.
My heart goes out to those who would like to be able to make a living from a web business too. Therefore, as I can squeeze it in, I describe some small business ideas on my Bouquet of Enterprises site. But you know what? At this point I'm convinced, after building over 20 generic, or raw-html sites, and now my second SBI site, that SBI is crucial to having a site that makes enough money to live on - (or more!) I have a circus of my own sites, and a number I've built for others, and some of those have over 800 pages, and get visitors that ask for help, but aside from charging my clients by the hour, they make no money like the SBI sites.
Mind you, they still need a lot more work and attention before I can set them on auto-pilot. Even then, they will need regular maintenance and effort. This is not a get-rich-quick scheme, but a proven recipe for success as you can tell if you check out these case-studies of others who are futher along than I am.
Should you want to look into SBI more fully, I recommend you take the Video Tour. If it works for you, let me know, please. It will really charge up my batteries!
April 2020 Update
It occurs to me that this great time of quarantine, or lockdown in our homes is a huge blessing in disguise for you. Especially if you've had an idea for an online web business, but always had the excuse that you had no time for that. Well... which have you got more of right now, Time or Money?
I tell you SBI! is the best plan for building, not just a website but a web business. It does take some time, but right now you have time and could focus on the learning curve and the initial stages more intensely than I did in just one evening a week. Believe me, the Action Guide (in print or video format) will take you patiently through every step and explain why you are doing that.
In six months to a year you could have a steady income stream from this side business, and it can carry you through whatever happens in your regular job. Or, you may - as have many others - end up retiring from your J.O.B. to focus full-time on your web business. Probably with time to spare!
The SBI! owner has decided to offer super prices - at COST - to first-time customers as a response to the COVID19 crisis. Look at these wonderful deals!
Introductory Pricing
SBI! Annual: $199 (regular price $299)

SBI! Monthly: $19.99 (regular price $29.99)

SBI! for WP Annual: $99 (regular price $149)

SBI! for WP Monthly: $9.99 (regular price $17)

*Upon renewal, after one year, the regular price applies.
Now if you are moaning, even in tears, because you'd love to jump on this, but you can't even afford these remarkable prices, then I an extra bit of news for you. Some of us have been told to watch for certain individuals who cannot afford an SBI! at any price, but are very motivated and we are convinced that they will stick with this for at least a year. Someone who has the Brains - Time - and Motivation to invest.... well, if we can confirm that you would qualify - You will get a Year's membership in SBI! (with all the bells and whistles!) for FREE.
If this sounds like you get in touch via my Reach Ruth form. I'll do my best to get to know you well enough to recommend you for this gift.
By the way, do you want to get better acquainted with me? And learn more about shopping online? Then - sign up for my free email course that explains things in greater detail.

Blessings & Thanks,
Ruth



P.S. Okay. I know I'd want to check out some of those other sites mentioned if I were you. Here they are;
Aloe-Vera-and-Handy-Herbs.com
Ruthes-SecretRoses.com
Generosity-Alive.org
Bouquet of Enterprises
AGodlyInheritance.com


P. P.S. I have a reputation for talking fast and enthusiastically when I get excited. Did you hear that as you read this page? Fortunately, on the written page you can read me as slow as you like. Take all the time you need!